Located next to the A38 in Alveston, our lovely cafe is open to the general public as well as serving refreshments for customers taking part in craft workshops and alpaca experiences. The café is in our large hay barn, has seating indoors and outside with views of the surrounding paddocks and alpacas.
We serve a range of delicious locally-sourced food including cakes, pastries and light meals along with a selection of hot and cold beverages. Our coffee supplier is Martin Carwardine & Co who some may remember from their family coffee shops in central Bristol.
We do not take table bookings for the Cafe unless your group is 6 or more people. Please get in touch if that is the case.
Breakfast with Father Christmas
Come and enjoy a festive family breakfast with a special visit from Father Christmas! After breakfast and whilst waiting for your turn to see Father Christmas, you are invited to help give some of our lovely alpacas their breakfast!
Available times & dates: 9.30am on Tuesday 19th, Thursday 21st or Saturday 23rd of December.
Child tickets include the food, a milkshake carton, fruit shoot or juice carton, a gift from Santa and the alpaca feeding experience (adult supervision is required).
Breakfast food options and ticket prices for children:
£13.50 Mini Breakfast (bacon, sausage, egg, beans & toast)
£13.50 Mini Veggie Breakfast (Veggie sausage, hash brown, egg, beans & toast)
£11.50 Pancakes (three American style pancakes, fruit, cream & chocolate sauce)
Suitable for children aged 4 to 10 years old. One adult with every two children please.
Adult tickets include breakfasts at our usual menu prices. No drinks are included in the ticket price but all our hot & cold drinks are available from the Café. There are no presents from Father Christmas for adult tickets!
Breakfast food options and ticket prices for adults are:
£11.50 Wolfridge Full English Breakfast
£10.50 Wolfridge Veggie Breakfast
£5.95 Breakfast Ciabatta (bacon, sausage & egg)
Please include any dietary requirements in the relevant section of the booking process. Cooked breakfasts are served with white toast & butter unless otherwise requested. Pancakes contain gluten and are served with dairy cream and chocolate. We can do the pancakes as dairy free, gluten free or vegan on request (in bookng process).
Afternoon Teas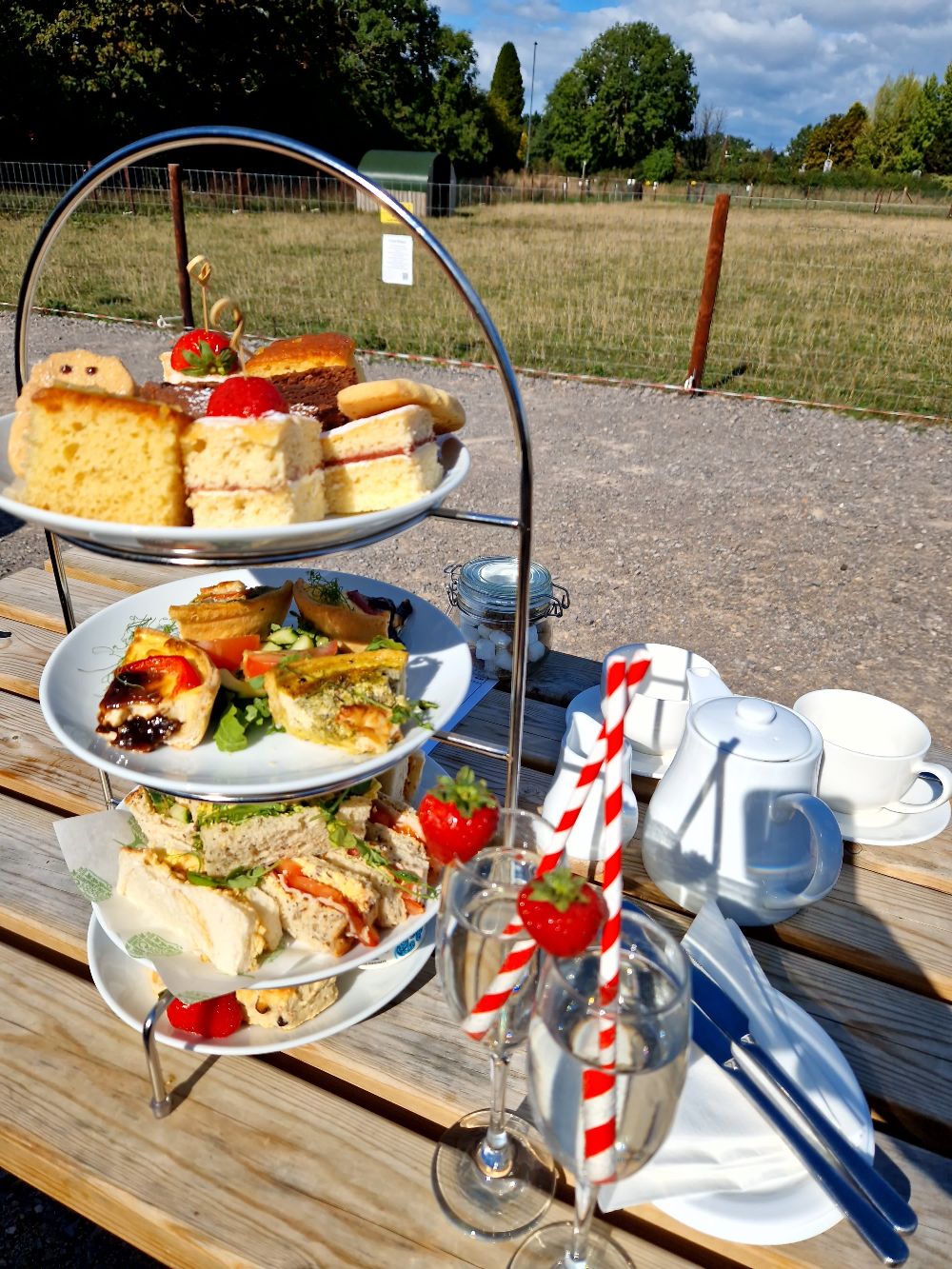 We offer delicious afternoon teas! They are available to book online from 2pm on Wednesdays, Fridays and Sundays. On Saturdays we can accomodate groups of 4 or more people, or people also booking in for an Alpaca Experience on the same day. However we require two weeks notice for these bookings and for you to please email info@wolfridgealpaca.co.uk to make this type of booking. We offer gluten free options and cater for other dietary requests, please enter details in the booking process...
You can book afternoon teas and buy vouchers for them online here:
Our Menu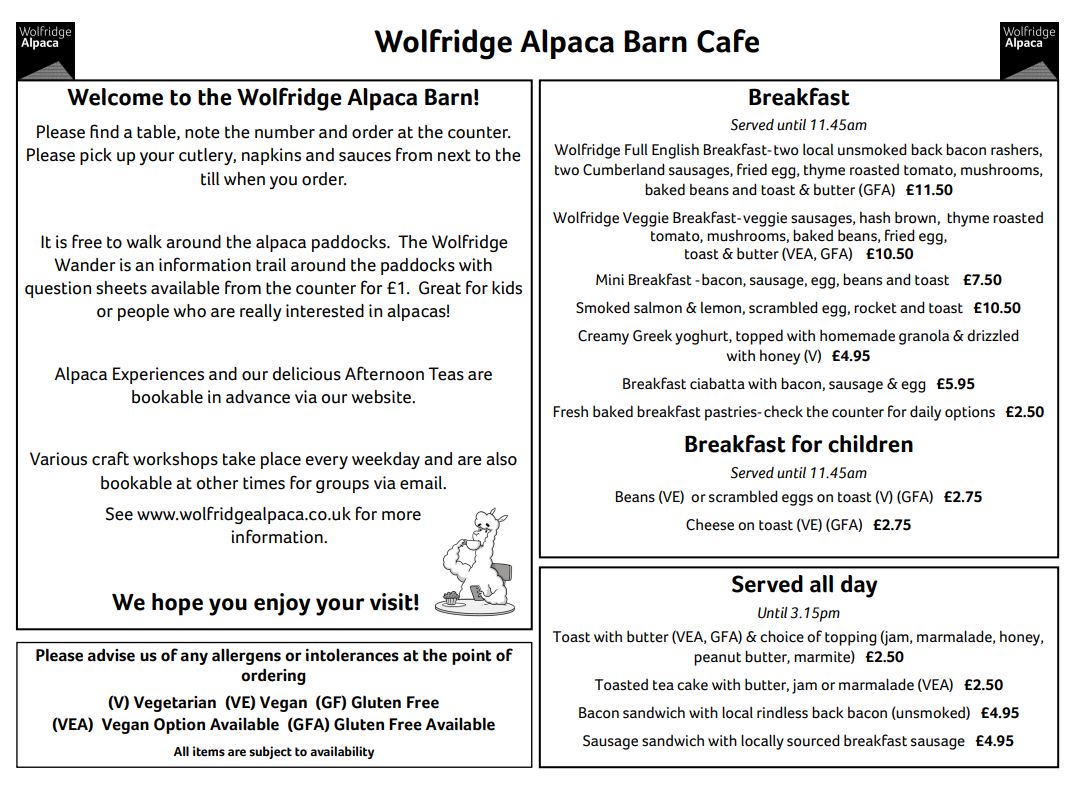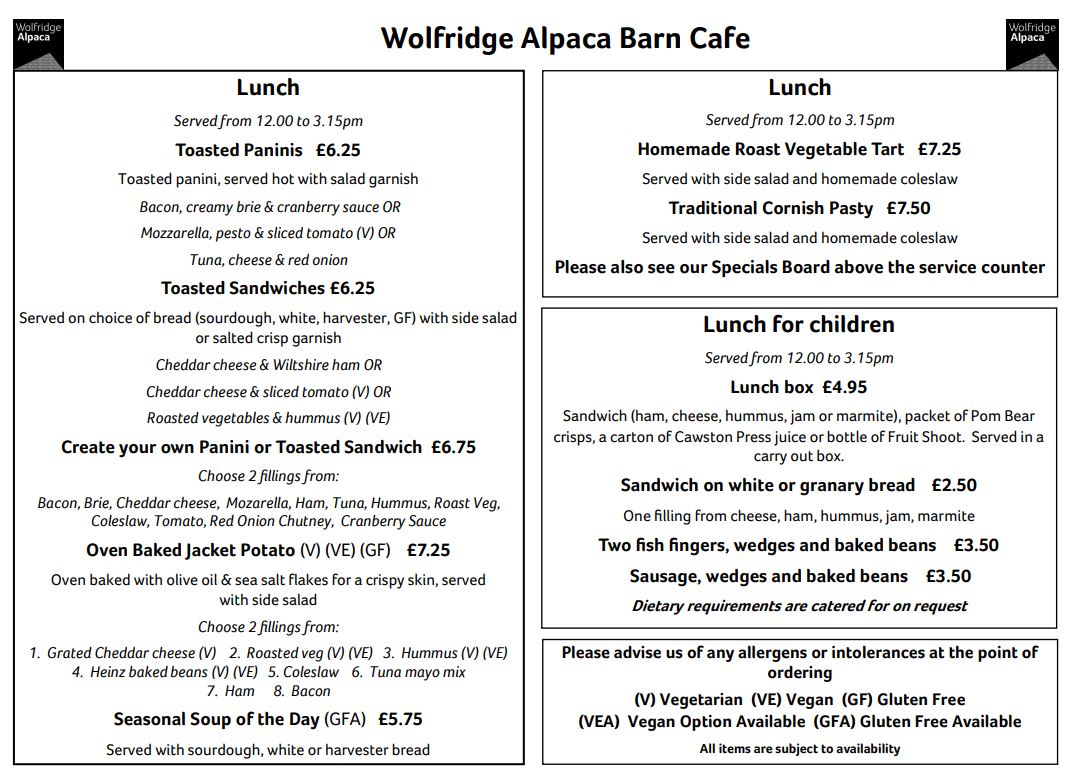 Options for group bookings available on request. Please get in touch.
Older Adults Wednesday Discount!
We offer a 20% discount off our main menu every Wednesday (except for school holidays) for adults aged 65 years and older!
We also offer a few additional options as below (please note, the below addtions are available at the price stated, not with a further 20% discount).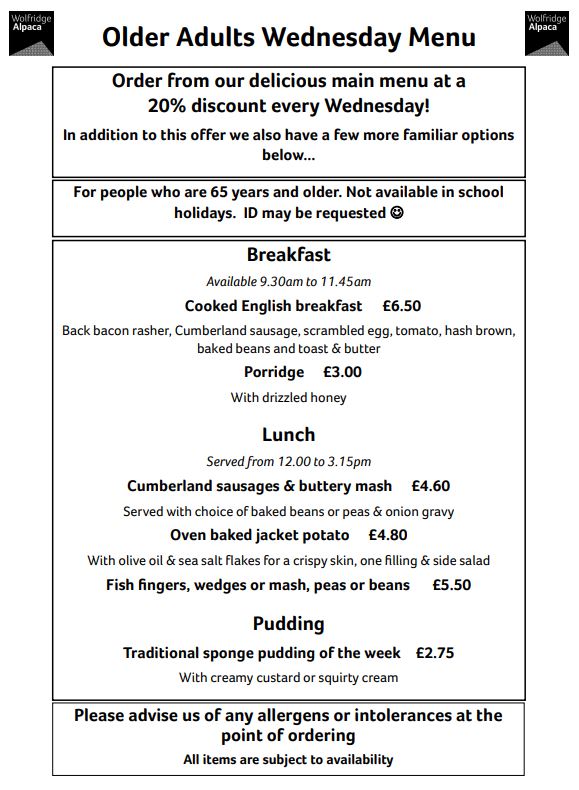 The café is open from Tuesdays through to Sundays each week. We do not open on Mondays (except for some Bank Holiday Mondays). See our Visitor Information page for more details.