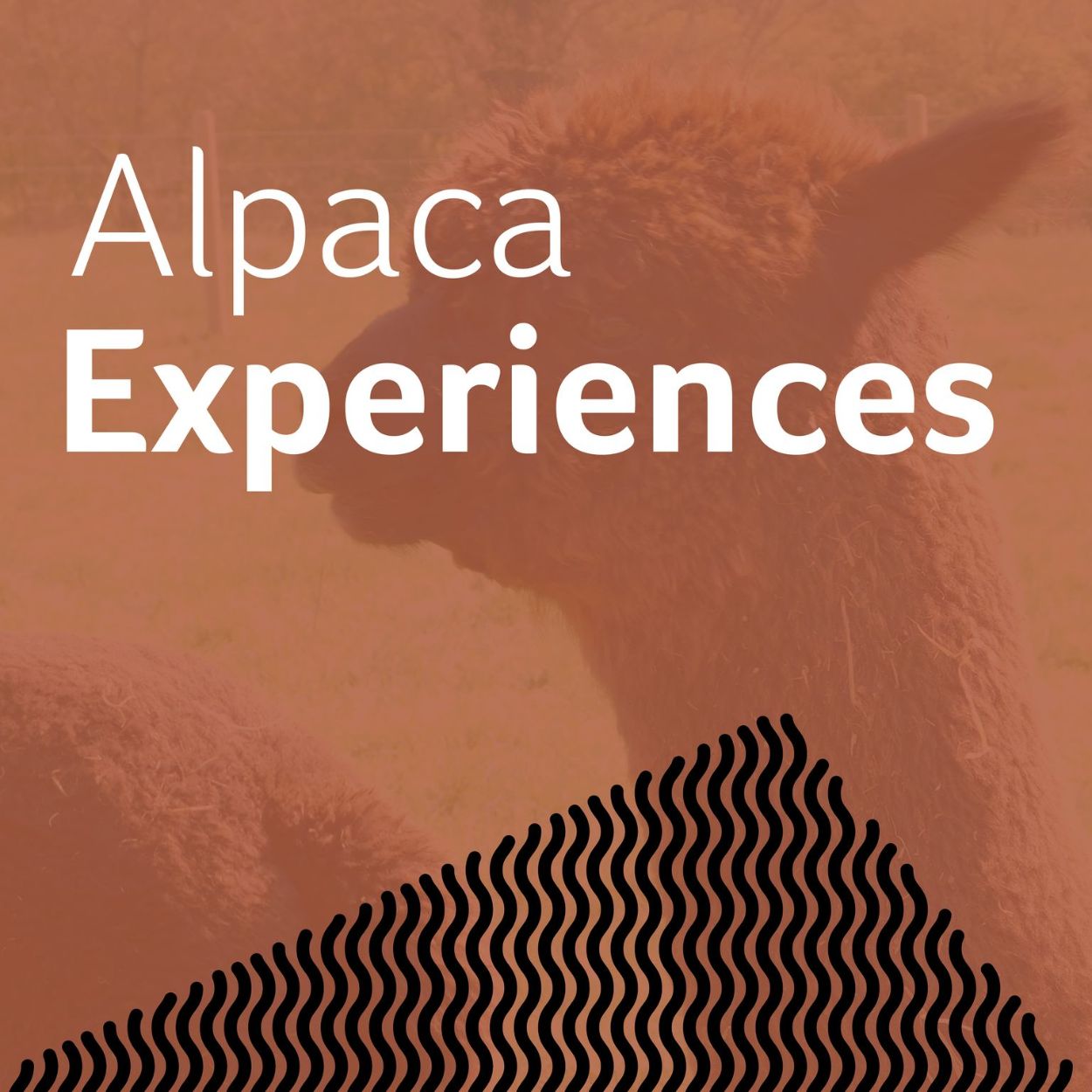 The detail below describes the alpaca experiences we will be offering at Wolfridge Alpaca Barn. The online booking system is available if you click on the "Book Now" button.
Wolfridge Alpaca Wander
Take a wander around the paddocks and learn about why alpacas are special! A map and quiz is available from the café for £1. The walk will take around 30 to 45 minutes to complete, depending on how fast you walk and how much stopping and alpaca watching you do! The route is mostly on grass so suitable footwear is required (especially in the winter months). There is no need to book prior to visiting if you just want to have a wander and enjoy something delicious from our café.
Up Close Experience
Get hands on with our lovely alpacas! Depending on what you are comfortable with, you can learn how to hold an alpaca; look closely and feel for yourself the amazing fibre; feed them out of scoops/your hand; ask any questions you might have about alpacas and of course get some fun photos!
The experience will take around 30 minutes depending on the size of the group (maximum of 6 people).
Children (4 to 15yrs old) will need to be accompanied by a paying adult.
For this experience the cost is £10 per adult and £6 per child (4 to 15yrs old).
Children aged 3 years and younger are free with a paying adult (one adult per child).
Alpaca Fibre Experience
Alpacas are very special animals. They are intelligent, inquisitive and gentle herd animals and each one has an individual personality. However it is their fibre, known simply as "alpaca" that is the really special thing about them! In this experience, you will look closely at alpaca fibre on the animal and at some sheared fleeces (off the alpaca). Learn about the variables that affect the quality of alpaca yarn and why alpaca fibre is so soft and luxurious! Crafters in particular will enjoy this session.
This experience will take around 30 minutes.
The session will cost £10 per adult and £6 per child (4 to 15yrs old).
Children aged 3 years and younger are free with a paying adult.
To book this session as an individual or small group, please email us at info@wolfridgealpaca.co.uk using the subject title "Alpaca Fibre Experience".
The Alpaca Fibre Experience can form the basis of a longer educational session for school-age children. Please get in touch to discuss your age group, group size, learning objectives and time constraints.
Large groups or parties (9 or more people)
We welcome group bookings such as hen dos, Brownies and other community groups. Please get in touch and we can arrange something to suit depending on your group size, age, activity preferences (alpaca experiences, craft activities and food/refreshments) and time available.
Meet & Walk Experience
We are not currently taking new bookings for our Meet & Walk experience. We are very pleased that we have had so many visitors to the cafe and to do the Wolfridge Alpaca Wander around the paddocks. However this has created a lot of distractions and the alpacas need more time to get used to this, along with a bit more training. We plan to make this experience available again to new bookings as soon as possible.
Voucher holders who would like to book in please email Info@wolfridgealpaca.co.uk or call 07900 677427.