Key information
Our car park is for visitors to the Cafe, people doing alpaca experiences, craft workshops and having afternoon teas.
We have plenty of parking but please car share or travel by alternative means if possible.
The various Alpaca Experiences and Craft Workshops are bookable in advance via our webpages. Prices are explained on the relevant webpages.
The Wolfridge Alpaca Wander (an information trail for children or fans of alpacas) is £1 per map/quiz sheet.
We do not take table bookings for the Cafe unless your group is 6 or more people. Please get in touch if that is the case.
We have an electric fence on the site which is NOT on during opening hours.
We do not allow dogs on the site as multiple dogs can stress the alpacas.
Opening hours
The Wolfridge Alpaca Barn is open the following days and hours:
Tuesdays: 9.30am to 4pm
Wednesdays: 9.30am to 4pm
Thursdays: 9.30am to 4pm
Fridays: 9.30am to 4pm
Saturdays: 9.30am to 4pm
Sundays: 10am to 4pm
Mondays: CLOSED (except some Bank Holidays)
Please note that we stop serving hot food at 3.15pm each day.
Christmas 2023 opening hours
Open as usual up to and including Saturday 23rd December.
Sunday 24th December CLOSED
Monday 25th December CLOSED
Tuesday 26th December CLOSED
Wednesday 27th December CLOSED
Thursday 28th December OPEN 10-4
Friday 29th December OPEN 10-4
Saturday 30th December OPEN 10-4
Sunday 31st December OPEN 10-1 (Breakfast only)
Monday 1st January 2024 CLOSED
Tuesday 2nd January 2024 OPEN AS USUAL (9.30am to 4pm)
Our Menu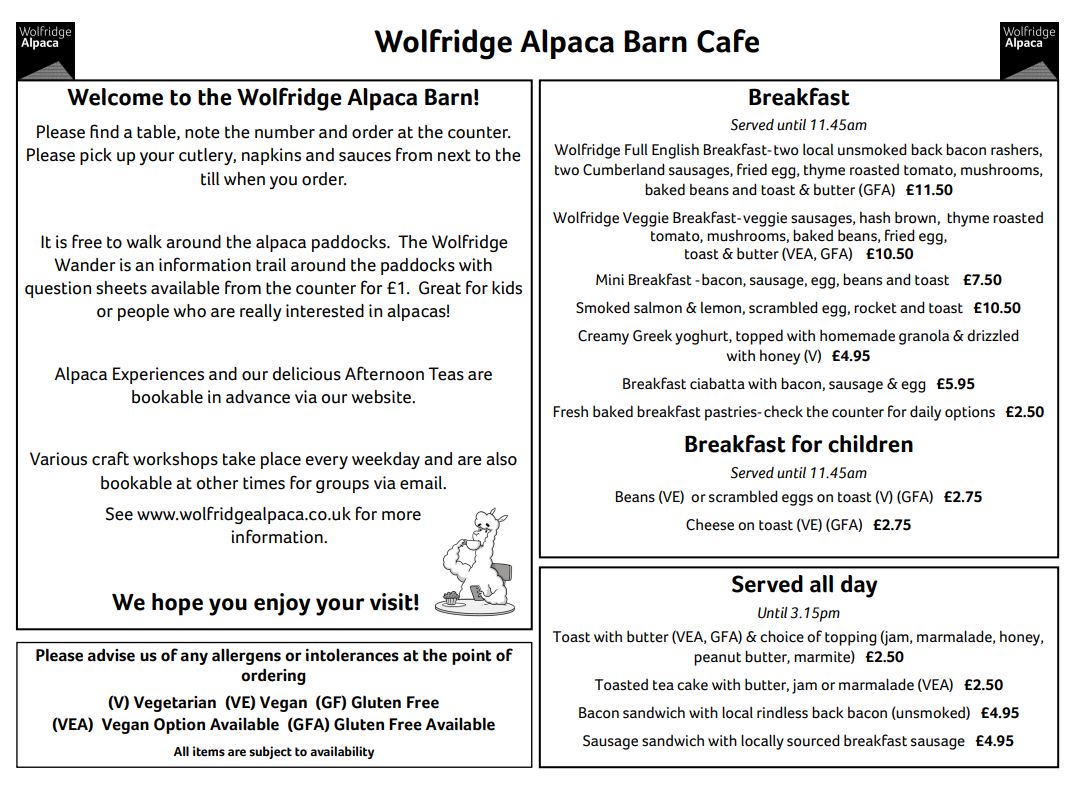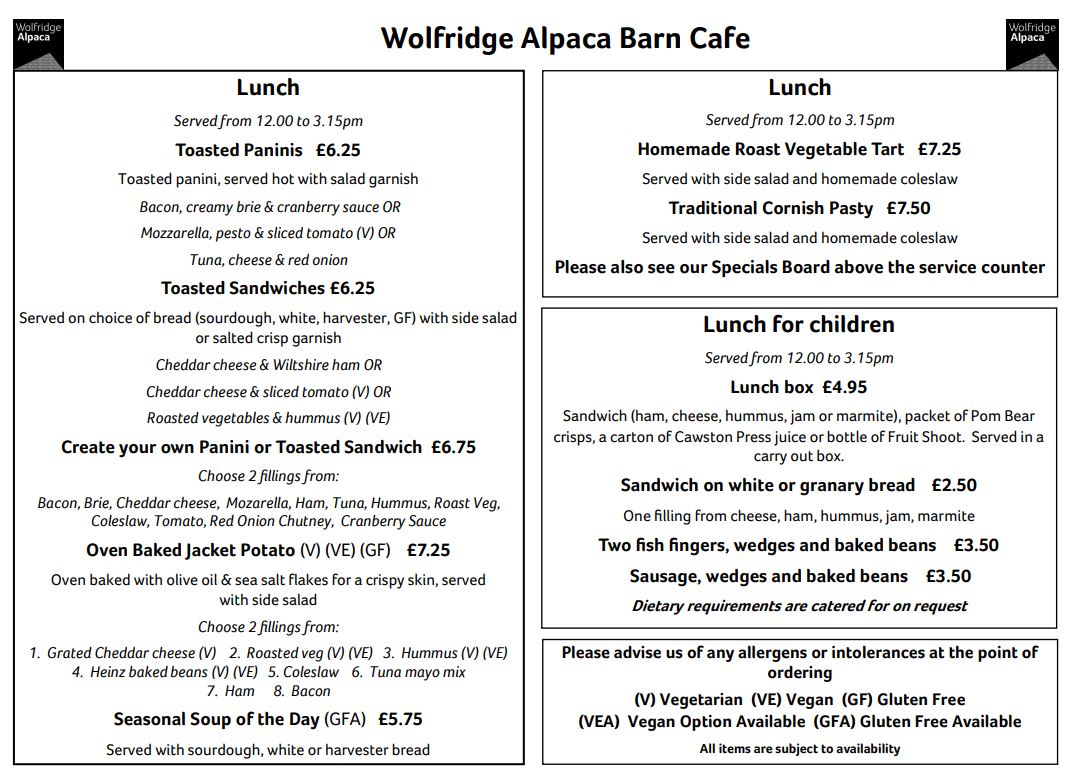 You can book afternoon teas and buy vouchers for them online here:
Options for group bookings available on request. Please get in touch.
Travel
Wolfridge Alpaca Barn is located on Forty Acre Lane, Alveston, South Gloucestershire, BS35 3QU. We are 3 miles from where the M4 and M5 cross, just off the A38.
Find us here.

We have 7 Sheffiled style bike racks available on site.
We have a good number of free parking spaces available at the Barn and two designated disabled parking spaces.
There is a bus stop on the A38 (Alveston Church), around 5 minutes walk from the Barn.

Dog policy
We do not allow dogs anywhere on the site (except on the public footpath). The presence of dogs can stress the alpacas- something we need to minimize when people are interacting closely with them.
Assistance dogs are very much welcome.
Smoking policy
We do not permit smoking anywhere on the site. We allow vaping on site in the outdoor areas.
The electric fence
The paddocks have an electric fence that runs around the outside roughly 100mm off the ground. This is to discourage badgers from entering the paddocks and is therefore only "live" in the evenings and overnight. However it is a trip hazard so we ask all visitors to stay back from the wire and not to step over it.