We are currently developing products made from our own alpaca fibre. These products include yarn for knitting and crochet, roving for spinning, needle felting or wet felting, sheets of felt and felted soap. These will be available to buy from our online shop and the shop in the Wolfridge Alpaca Barn in 2022.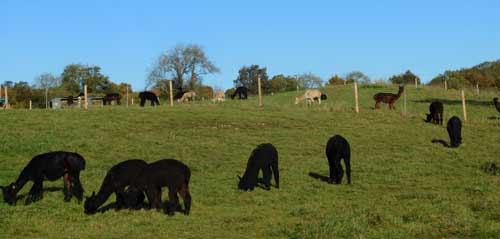 Wolfridge Alpaca Yarn
The challenge of alpaca breeding is to develop a herd with as much quality fibre on each alpaca as possible. The quality of an alpaca's fibre is assessed according to several factors; fibre length and consistency of that length, fineness (measured in microns), density, consistency of colour and handle are all important variables that breeders look to improve. We are fortunate enough to have some very high quality alpacas from the best genetics in the country. The yarn we are developing will therefore be of the finest quality and we look forward to making it available to purchase when we are able to process it!
Crafting with Alpaca Fibre
The properties of alpaca fibre have attracted many people to it for clothing across centuries, originating in South American royal households, and now in international textile markets. The luxuriously soft, draping nature of a knitted or woven garment has great appeal, and spinners and knitters report great satisfaction while working with alpaca.
A more modern use with crafters is using the fibre to create lustrous finishes to needle felted 3-D animal sculptures, and dolls and fairies are given life-like hair using alpaca fibre. Alpacas span a wide range of natural colours, over 20 shades: white, fawn, brown, black and grey. Dyes are often used over white fibre to expand the colour range.
Not all alpaca fibre is good enough to turn in to super-soft yarn and luxurious products. Leg and neck fibre is generally not as good as the main blanket (the area across the back and down the sides of the alpaca) and fibre quality usually declines as an alpaca gets older. One of the special things about alpaca fibre is that there are plenty of uses for this lower quality fibre and therefore plenty of reasons to keep non-breeding males and older animals. The coarser fibre is used in products such as bedding and pillows and sleeping bags. It can also be used to make felt, which can in turn be used to make products ranging from simple hand-crafted phone covers to more complex items such as handbags.